Description
"testo 616, the compact sized instrument for moisture measurement aids in precise and non-destructive measurement of moisture content of wood and building materials and of monitoring the drying process after water damage. Inspect the moisture content as a weight percentage compared to the dry weight by simply selecting the characteristic curve and placing the meter's measuring claw against the surface of the material. You can also save the reading to your meter by just pressing the relevant key.
Although the measuring claw only comes into contact with the surface, wall or flooring that is being measured, it is able to determine the moisture content of the wood or other material down to a depth of 5 cm.
Ideal areas of use for the testo 616 moisture meter
The testo 616 moisture meter is a professional measuring device that can be used in areas as diverse as water damage restoration or carpentry or joinery.
– Moisture damage detection: the non-destructive method for finding moisture in walls and floors
– Monitoring drying processes: from carrying out moisture inspections to meeting building schedules to controlled drying after water damage – the non-destructive method for determining the moisture content in wood and building materials
– Moisture in wood: for checking the moisture content of wood that has been stored prior to processing
testo 616 moisture meter with 10 characteristic curves
– Soft wood
– Hard wood
– Pressboard
– Anhydrite screed
– Cementscreed
– Limesandbrick
– Gas concrete
– Concrete
– High insulationbricks
– Brickwork"
USPs
Measurement depth up of 5 cm
10 characteristic curves for different types of building material and wood
Measurement depth up of 5 cm
Ergonomic design
Delivery Scope
testo 616 moisture meter for wood and building materials, calibration protocol, batteries.
Downloads
Download DataSheet Instruction Manual
Application Image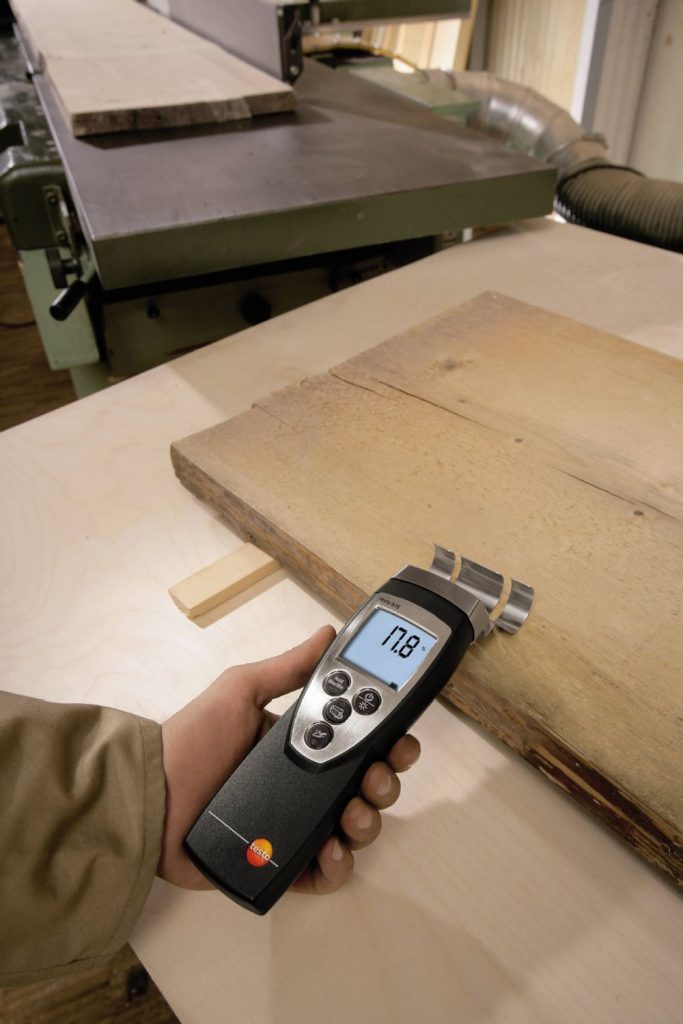 Technical Details
Humidity – Capacitive
Measuring range
Resolution 0.1
General technical data
Dimensions 70 x 58 x 234 mm
Operating temperature +5 to +40 °C
Housing ABS / TPE / Metal
Protection class IP30
Battery type 9V block battery, 6F22
Battery life 60 h
Display update 0.5 s
Measuring rate 0.5 s
Unit Water content in percent by weight based on dry mass (%)
Measurement depth up to 5 cm
Storage temperature -20 to +70 °C
Weight 260 g