Description
The compact testo 605i temperature and humidity measuring instrument in conjunction with a smartphone/tablet and the testo Smart Probes App is ideal to measure air temperature and humidity in rooms and ducts.
In addition to measuring air temperature and relative humidity in rooms and ducts, the thermohygrometer is also suitable for checking air conditioning system humidifiers. When you use the testo 605i in conjunction with the testo 805i infrared thermometer, you can clearly identify areas susceptible to mould via the traffic light principle, with the assistance of a measurement menu that is already stored in the App.
Measure more efficiently using the App
The testo 605i wirelessly transmits the measurement data via Bluetooth to your own smartphone or tablet. With the testo Smart Probes App installed on your terminal device, you can view your readings conveniently. The App also enables the dew point and wet-bulb temperature to be determined automatically. All measurement data is displayed either as a chart or in table form. The measurement data log can then be emailed directly as a PDF or Excel file.
System requirements:
iOS 8.3 or later
Android 4.3 or later
Bluetooth 4.0
USPs
• Compact professional measuring instrument from the Testo Smart Probes series, for use with smartphones/tablets
• Measurement of air humidity and temperature in rooms and ducts
• Automatic calculation of dewpoint and wet bulb temperature via testo Smart Probes App Measurement data analyzed and sent via testo Smart Probes App
• Space-saving and easy to transport
Delivery Scope
testo 549i high-pressure measuring instrument with smartphone operation, including batteries and calibration protocol.
Downloads
Download Datasheet Instruction manual
Application Image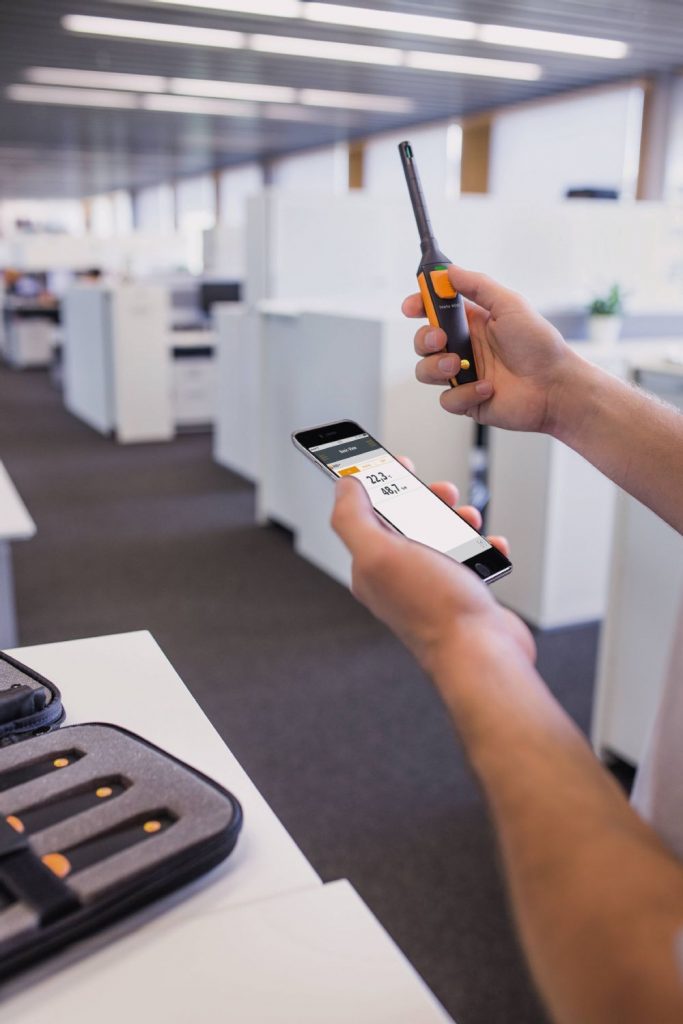 Technical Details
Temperature – NTC
Measuring range -20 to +60 °C
Accuracy ±0.8 °C (-20 to 0 °C), ±0.5 °C (0 to +60 °C)
Resolution 0.1 °C
Humidity – Capacitive
Measuring range 0 to 100 %RH
Accuracy 5 to 80 %RH: ±(1.8 %RH + 3 ) at +25 °C
Resolution 0.1 %RH
General technical data
Weight 86.4 g
Dimensions 243 x 30 x 24 mm
Operating temperature -20 to +50 °C
Product-/housing material Plastic
System requirements requires iOS 8.3 or newer; requires Android 4.3 or newer;
requires mobile end device with Bluetooth 4.0
Product colour black/orange
Battery type 3 AAA micro batteries
Battery life 150 h
Length probe shaft 100 mm
Storage temperature -20 to +60 °C